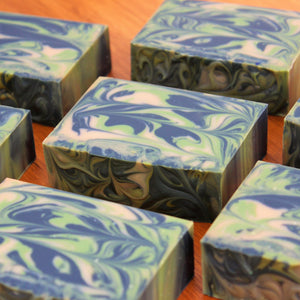 One of my favorite scents! This soap smells amazing! It has hints of sage, juniper berries, eucalyptus, and fresh woods. A burst of fresh air tingles with mint; pine needles, winter berries and laced with wood notes. The lingering sweetness of vanilla musk finishes the scent.
Ten percent of the price for each bar goes to St. Jude Children's Hospital which supports children's cancer research. You can read more about their mission or donate directly by visiting their website: https://www.stjude.org
This listing is for one bar of soap. Every bar of Sweater Weather soap is unique and varies slightly in size and color. Each bar of soap weighs at least 5 oz.

Sweater Weather Ingredients: Olive Oil, Coconut Oil, Water, Sodium Hydroxide, Shea Butter, Castor Oil, Fragrance, Skin-Safe Colorants, Silk
Handmade soap lasts longer if allowed to dry between uses. A draining soap dish is highly recommended.