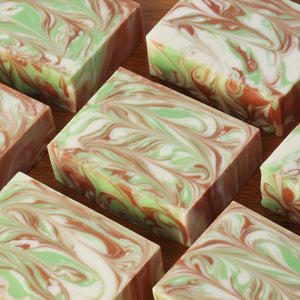 A clean and refreshing soap that you will love! Fresh coconut, fruity lime, and invigorating verbena with a hint of vanilla. Try it today!
At Seal Soapworks, we use only the highest quality ingredients and our luxurious soaps are formulated to last a long time, to create a silky lather, and to leave your skin feeling smooth and soft. 
Ten percent of the price for each bar goes to St. Jude Children's Hospital which supports children's cancer research. You can read more about their mission or donate directly by visiting their website: https://www.stjude.org
This listing is for one bar of soap. Every bar of coconut lime soap is unique and varies slightly in size and color. Each bar of soap weighs at least 5 oz.
Ingredients: Olive Oil, Coconut Oil, Water, Sodium Hydroxide, Shea Butter, Castor Oil, Fragrance, Titanium Dioxide, Iron Oxide, Chrome Green Oxide, Silk Amino Acid
Handmade soap lasts longer if allowed to dry between uses. A draining soap dish is highly recommended.